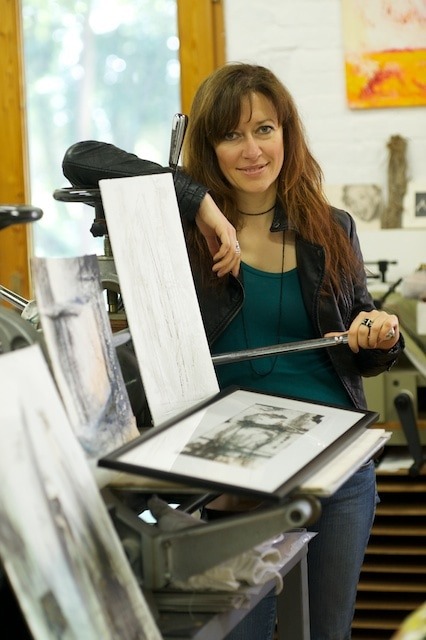 Monica Martin was born in Jesolo, Venice (Italy) in 1970. Since then, she lived in Great Britain, Austria and in the city of Florence, Italy before settling in the unique and enchanting town of Venice.
Her artistic studies have led her throughout the Tuscan and Veneto regional capitals: in these historical cities she experimented with various expressive techniques guided by several drawing and painting's masters. 
In 1997-1998, she attended the "Free School of Nude" at the Venice Academy of Fine Arts. 
In 1999, she opened her gallery – Itaca Art Studio – in Venice. 
In 2001, she enrolled in private ceramics courses taught by the artist Marina Caldari, also in Venice. She explored other areas of her creativity using different artistic approaches with new materials in order to obtain a more three-dimensional feel to her works. Since then, she developed a passion for working with clay to create vases and sculptures.
Since 2001, fascinated by the ancient technique of etching, she has been attending advanced courses at the Atelier Aperto conducted by Nicola Sene in Venice, whose group she became a member; she experimented both traditional and experimental ways of engraving under the direction of several masters.
In her rich and colourful gallery, situated in the heart of the city between Saint Mark's Square and The Rialto Bridge, Monica Martin displays a wide selection of original watercolours with fantastic scenes of Venice, her unique abstract take on the classic subject of the gondolas, and more traditional views of the city always painted with her distinctive taste, as well as other pictures with different and sometimes abstract themes.
Silk screenings, acrylic and oil paintings, a choice of engravings and a large variety of reproductions of her vast repertoire are also on display.
Monica Martin works in her studio situated in Venice on the Giudecca island in the enchanting frame of the ex Convent Ss.Cosma e Damiano; her studio is open to the public.
She has been featured in various exhibitions in Italy and abroad, her works belong to many private collections world-wide.
Ithaca
by Konstantinos Kavafis
As you set out for Ithaca
hope your road is a long one,
full of adventure, full of discovery.